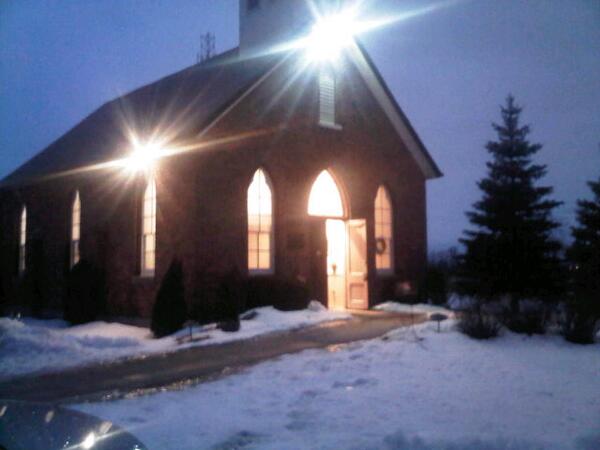 St. Peter's Mission Church-Ninth Line, Milton, Ontario
It is a reality of our busy lives to often overlook the simple moments that are filled with our Lord's mystery and love. We can sadly become so entangled in our duties and tasks to not only forget the importance of stopping to 'smell the roses' but, so much so that we miss the hand of God touching us and revealing Himself deeper into our hearts.
Sunday greatly affirmed the reality of how much our Lord truly provides for us. When we honestly, humbly, and sacrificially offer our time to Him, we are provided with the gift of right ordered time. We are provided with time infused with peace, joy, love, and the fruits of striving to live in communion with our Lord. By placing God first, everything in our lives falls into proper placing.
It all started with a phone call to my spiritual director last week in order to discuss fulfilling the Sunday Obligation and my busy weekend schedule. I realized that I would be unable to attend my regular 9:00am Mass due to my commitments, and that I would also be unable to attend the Saturday Vigil Mass. As suggested I went on the Archdiocese of Toronto website and started to seek Mass times/locations that offered an early morning Mass. I was happy to find that the St. Josephine Bakhita parish community offered a Mass at St. Peter's Mission Church beginning at 7:30am within thirty minutes of my home. This was perfect!
Unknown to me at the time was the unbelievable blessing it would be to participate in Mass at this tiny mission Church filled with great faith and an even greater history.
I arrived at the Church shortly before 7:30am and was so taken back by the beautiful setting; the door was wide open with welcome and the light was breaking through the windows. I quickly took my phone out and took this photo in an attempt to capture the beauty of this moment before entering.
This Mass reaffirmed the importance of understanding the priority that our Lord should always have in our lives, and how much He is truly available to us. We have become accustomed to witnessing a society that has grown further away from our Lord and thus further from the Church. Mass can be seen at times as just another task on the list, opposed to being the most important priority enabling us to enter into our tasks most fully with the aid and divine providence of our Lord.
This tiny mission church was first built in the early 18oo's to accommodate the Irish farm settlers in the area. In fact, most churches erected in our history are a result of great devotion, hard work, and the great faith of our brothers and sisters in the Church who needed a place to come and receive our Lord. Those with 'nothing' knew and understood that faith in our Lord was everything. Those today striving toward the emptiness of worldliness seem to lose sight that it is only in God alone that we have everything we truly need.
I read an interview earlier last week in which Bishop Salvatore Matano of Rochester explained that the early settlers sacrificed greatly in order to build Churches "which were and are a concrete manifestation of how they loved God." As I sat in this 'tiny' concrete manifestation of God's great love I could not help but be moved by the sacrifice that it took to come together and build this Church. I was humbled by understanding the priority of faith that our Lord held in the lives of these early settlers; the same love that burns in the hearts of the faithful today, and the love that should be proclaimed to those who have since fallen away.
It is not with an authoritative power alone by which our Lord places demands upon us. These are demands of love for love. Sunday's obligation is a privilege; it is an obligation to love. It is a time to receive Jesus in the Blessed Sacrament and know the immensity of being God's beloved children. We go forth from the Mass renewed and touched by grace so that we may share the light of Christ within the world, the beauty of our faith, and lead others by our witness home to Him. (CC)